background
Here is a minor update to the Movie Review Finder bookmarklet we previously made available.
This version adds a floating bug to the page which is automatically updated as text is selected. The bug sits in the packground on the loaded page, until the "Find" is initiated. Then the review panel is superimposed on the current page providing instant access to reviews from Google, IMDB, MRQE, Netflix, and Amazon.com.
For bookmarklet users the bug doesn't provide much added value. The real value comes from the wrapping of the bookmarklet in a Greasemonkey script. This allows the floating bug to be automatically invoked whenever a site of interest is visited.
installation
The bookmarklet itself has not changed. It loads an external script, which contains the updates. If you have already installed it you should see the changes next time you use the Finder. It might require a browser cache reset.
If you haven't installed already, here is the bookmarklet:
Movie Review Finder.
Simply drag it to your toolbar or right-click to add to your favorites.
Greasemonkey users should install this script:
Movie Review Finder for Greasemonkey
Just choose 'Install User Script' from the menu bar or the right-click context menu.
Several popular movie-related sites are included by default. You can add or remove sites at any time by selecting Tools->Manage User Scripts.
usage
You can test the Finder on this page before installing anything. Select the movie title text below:
O Brother Where Art Thou?
Then click the bookmarklet link (not the Greasemonkey link) from the installation section. That will load the Finder bug, with the selected text:


Try selecting some other text on the page. The text in the bug is automatically updated. You can also type directly into the bug. When you have the right text selected use the "Find Reviews!" button. You will get the Finder overlay on the current page: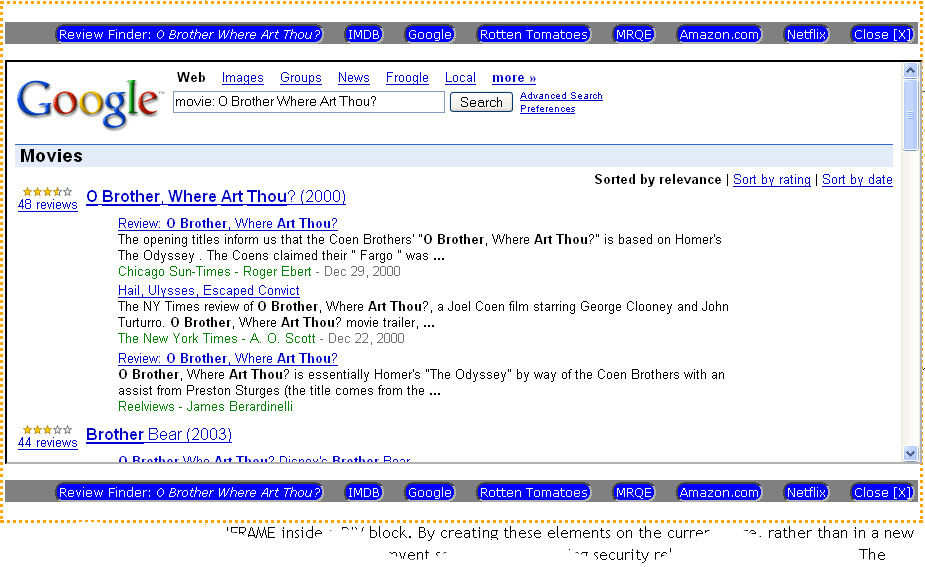 Use the various buttons to switch between the sites. Click Close to get rid of the review box. The bug will reappear when the Finder is dismissed.
Once installed you can use the bookmarklet on any non-framed page just by selecting the saved bookmark. The Greasemonkey version will start whenever an included site is visited.
Comments Off

on Movie Review Finder Greasemonkey Update